Hello everyone! Even though it's the shortest month of the year, February seemed to drag on a bit for me. There were times like when I thought it was Saturday, even though it was only Tuesday haha. On the plus side, I read more books than last month.
Books Read
The Things We Learn When We're Dead by Charlie Laidlaw ⭐⭐⭐⭐
This is a subtle retelling of The Wizard of Oz. It tells the story of Lorna Love, an aspiring lawyer, who is hit by a car on the day of the 7/7 bombings. Lorna wakes up in Heaven, or HVN, which is a spaceship. I found this to be a unique read.
The Tea Dragon Society by Katie O'Neill ⭐⭐⭐⭐⭐
Oh my days, I loved this so much! It's actually the first graphic novel that I have read in full. I adored the art, diverse characters, and cute tea dragons! ❤
The Cat in the Hat by Dr. Seuss ⭐⭐⭐⭐
One of the prompts from the 2019 PopSugar Reading Challenge is A book you see someone reading on TV or in a movie. I chose The Cat in the Hat which is read by Morticia Addams to her son Pubert in Addams Family Values. I can't believe I never came across this book as a child. Younger me would have loved a rhyming story about an anarchist cat.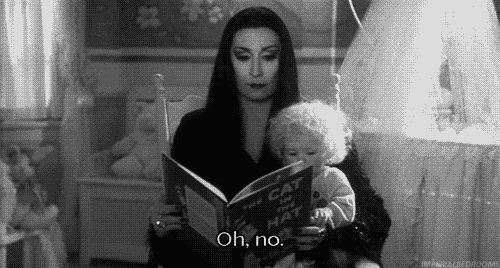 Blog Posts
In case you missed it!
In Other News
I spruced up my blog header and graphics. Apologies that I keep changing it every five minutes! 😊 I wanted to go for a minimalist and consistent look. Plus I was unable to resist these lovely watercolour flower designs which have been kindly shared by Torrie from Fox and Hazel.
How was February for you? Let me know in the comments!