Hello everyone! Do you have any draft posts which you've been meaning to complete for some time? *Raises hand* I remember seeing this tag floating around a while back. Being a cat person, I had to take part! No time like the present, eh? 😊
Rules
Purr – As cats do this when they're happy or relaxed, what is the book that makes you happiest or relaxed?
My favourite book ever, Pride and Prejudice by Jane Austen. It's one of the few books I love to re-read. In fact it's been a while since I read it, so I'm due another re-read.
Sleep – What is a book that put you to sleep or was just boring?
To the Lighthouse by Virginia Woolf. This was the first (and probably last) book I read which uses the stream of consciousness technique. I found it difficult to follow and some of the sentences are way too long.
Twitch while dreaming – Have you ever dreamt of a book you read?
Oh gosh, I barely remember any of my dreams and when I do they usually don't make much sense. But since this is a cat tag, when I was younger I dreamt that I was on an episode of Top Cat.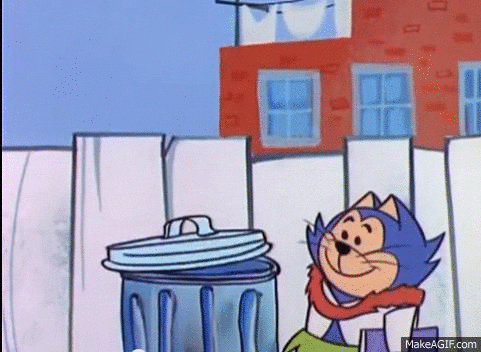 via GIPHY.
Seems to play nice…until the claws are out! – Which book had the biggest plot twist(s)?
It has to be Gone Girl by Gillian Flynn. This is an exciting read, although I just wish the ending was different.
Cuddles – Which book character would you give a hug to?
Johnny from The Outsiders. That poor guy goes through a lot.
Catnip – What's a book that made you have warm and fuzzy feels?
Who's That Girl? by Mhairi McFarlane. Whilst there are some serious moments, overall it's a feel good book.
Cat breeds – Your favourite book(s)?
Have I mentioned Pride and Prejudice? 🙂
Getting the cat: How did you find your favourite book(s)?
Pride and Prejudice: We read this as part of our English Lit class in Year 11 and I'm so grateful that my English teacher taught it with such passion. I remember she said at a parents evening that I was getting a real kick out of Austen!
Jane Eyre: On my TBR and borrowed from the library.
Gone With the Wind: On my TBR and borrowed from the library.
Great Expectations: I found a copy in a box of belongings from one of my relatives when I was 10 and asked for permission to read it.
The Catcher in the Rye: I also found this one on the bookshelf of another relative's house when I was a teenager.
The Vet's Office – Your least favourite book
Probably Lord of the Flies. This was required reading at school and I wish we had read The Outsiders instead.
Being in places they shouldn't – Least favourite cliché?
Instalove, especially in YA. I mean, I know hormones are all over the place when you're a teenager, but girl meets boy and then can't live without him? No thanks.
Final question: The good old cardboard box – Most underrated book series?
I would say the Lady Helen series by Alison Goodman is pretty underrated. Think Pride and Prejudice meets Buffy. I have read the first two books in the trilogy and just know the third book will be amazing!
Bonus
Here is a picture I took of a lovely cat whilst on holiday.
I'm not sure who has done this tag, so if you like cats and books, feel free to try it!